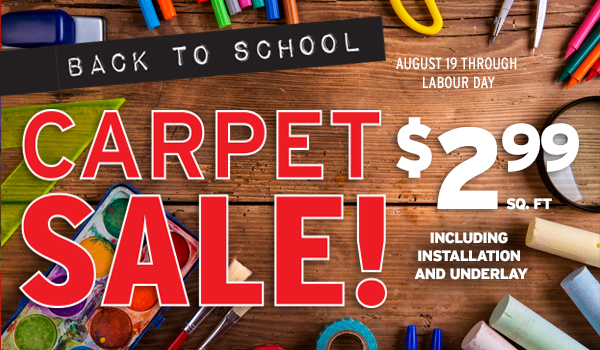 It's almost time for school! But right now it is time for great savings on carpet.
August 19th through Labour Day we are offering special deals on 2 styles and colours of 2 of our featured carpet options.
$2.99 per square foot INCLUDING INSTALLATION AND UNDERLAY!
You will not find high quality carpets for this price very often. We know how busy it is during the school year. Getting kids ready in the morning, running around to practices and games; it isn't easy. But we are here to make sure getting beautiful new carpet is.
Colonial Downs

Beautiful textured carpet that is not only comfortable but also shows fewer foot-prints. So when everyone is running around the house, your carpets won't look like it.

Midnight Stroll

This patterned carpet is high performance and will stand up to your busy lifestyle. And the sculpted patterns give your room an added level of detail.
So don't miss out! Visit our Maple Ridge showroom today! Minimum purchase necessary and this offer does not include stairs.